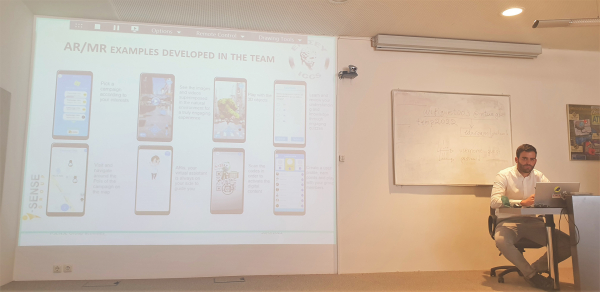 What about opening a window in time and exploring Greek temples and monuments as they were initially built? How would it be to wander around them, using only our mobile devices, and explore them in real dimensions? APSIM project, coordinated by ISENSE Group of ICCS aims to travel us back in time and allow an unforgettable tour experience in Ancient Greece. The project using augmented reality (AR) and localized simulation technology will create an application that allows users to move and rotate their device to see the space around a specific archaeological site or monument as it was, receiving additional information whenever is needed.
The project will develop and apply localized simulation technology in two emblematic Greek archaeological sites (Dion Pieria and Delos of Cyclades) as well as the Athens Epigraphic Museum, making the visit more interesting and enjoyable. At the same time, the same application in Virtual Reality (VR) will allow remote users to have the corresponding visit experience. The proposed flagship applications in the Ministry of Culture's services are expected to bring innovative solutions to the design and presentation methodology of archaeological sites and areas of cultural interest.
In particular, the pilot applications of the project are expected to significantly increase the number of visitors to the archaeological sites of Delos and Dion and the Epigraphic Museum.
APSIM held its kickoff hybrid meeting at the National Technical University of Athens on June 30 where partners discussed the project's objectives and the expected results. Georgios Tsimiklis, team leader of Smart Integrated Systems (SIS) of ISENSE, Tasos Katsikas and Nikos Desypris scientific project managers of APSIM, and Irini Krimpa responsible for the dissemination of the project, presented in detail the project and the time plan for the following months and highlighted the importance of ASPIM for the promotion of Greek culture in a wider audience and especially in younger generations.
APSIM consortium consists of the following partners: ISENSE Group of ICCS, The Ministry of Culture and Sports – Epigraphic Museum, The Ephorate of Antiquities of Cyclades, The Aristotle University of Thessaloniki, COMIC and GEOANALYSIS.